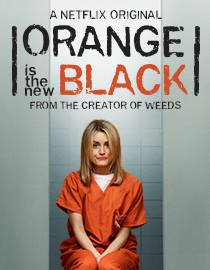 It took me longer to join the bandwagon, but let me tell y'all, that I am allllllll the way on board right now! Hello! I am completely obsessed with Netflix's breakout hit Orange Is The New Black!
I watched all 13 episodes in a 24 hour period and I cannot believe how long we all have to wait for Season 2! I guess I should just be thankful that there is actually going to be a Season 2, but nah. I'm going to go ahead and complain about the wait anyway.
I really adore the cast of OITNB. I think Taystee and Poussey are my favorites. Piper annoys me like none other, which is funny because it's her story. But sometimes it be's like that. I love Laura Prepon, but not as Alex Vause. I love her as Donna on That 70s Show.
Pennsatucky, brought to life by Taryn Manning, is the best acting job in the cast. Man, does she sell that brand of crazy, or what?! And we all know that she isn't dead, after that cliff hanger, because she's been bumped up to full-time series regular. Ahhh! I have so many questions!
I'm thisclose to buying the book because I have questions. I know that book Larry and Pennsatucky are very different from TV Larry and Pennsatucky, but I don't care! I must know what happens!
Is anyone else as obsessed with Orange Is The New Black? Who are your favorite characters?